How to build a garden igloo?
It's so much fun to have a garden dome for your family. The garden igloo is a perfect greenhouse for the kids to learn gardening. Adults can enjoy a peaceful reading time with coffee and tea without being disturbed by unfavorable weather. It is lightweight and portable and every home can afford to have one little dome house. But How to build a garden igloo? You may worry about the installation of a garden igloo. Don't worry it is easy to assemble.
Here I give you 7 simple steps guidance on how to build a garden igloo.
Step1: Ground selecting and preparation
Choose an even ground in your backyard or garden.  Bring all igloo packages that manufacturer delivered to your jobsite. Unpack them. Prepare the tools you may need in advance. You may need a ladder if your igloo diameter over 4m. Tape measure also needed for measurement.
Step2: Sorting pipes
When unpack the whole frame pipes. Sort each size carefully and mark same group of pipes with same color.
Step3: Understanding the whole structure
Check the installation drawings and confirm the whole structure. Basically it is made of many triangles. Check how many layers it have. And same layer is made up of same size of pipes. When you can understand each part of the structure you may start installation.
Step4: Start with the first layer
Find the first layer pipes, conect each pipes with the connectors. Building triangles one by one then you have the first layer.
Step5: Install layer by layer
Accorting to the sorted pipes., Each layer uses each size. Install second layers according to drawing. And contine with the third layer. Repeatedly, you will finish the whole frame.
Step6: Complete the whole framework
As you build higher layers, you may need a ladder for help. Also, you should be very careful to keep balance.  Actually, you can install the roof part on the ground and put it on top to connect with the current joints.
Step7: Cover the fabric roof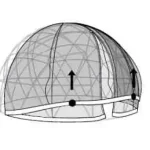 1.Reverse folding the whole fabric and cover it the one side of the dome
2.Pull the top layer to cover the another side of the dome
3. Pull to Cover the whole frame and leave the entrance
Now you finished the whole installation and you can have a fantastic space inside the dome. If you have any questions or need any help on the Dome Installation just drop us a line via the form at the bottom, we'd love to give you more guidance.   
Mob./WhatsApp: +86 139 2885 8552