Explore Hill Inn Georgia: Luxury Camping in Adjara
Hill Inn Luxury is a unique campsite in the highlands of Adjara, set amidst picturesque mountains, offering a unique experience of being in touch with nature. Here you can enjoy not only panoramic views of the mountains but also the perfect combination of Georgian tradition and modern comfort. Facilities offered at Hill Inn include:
These unique lodging options blend the charm of nature with modern comforts, allowing visitors to enjoy the embrace of nature while experiencing a luxurious stay.
Home Theater and Small Library:
To give visitors room to relax and entertain while enjoying the great outdoors, Hill Inn features a home theater and small library, allowing you to read or watch a movie while also experiencing the serenity of nature.
Under the starlight, the amphitheater surrounding the campfire is an ideal place for visitors to mingle and enjoy the evening. Here you can listen to stories, share experiences, or enjoy local music and dance performances.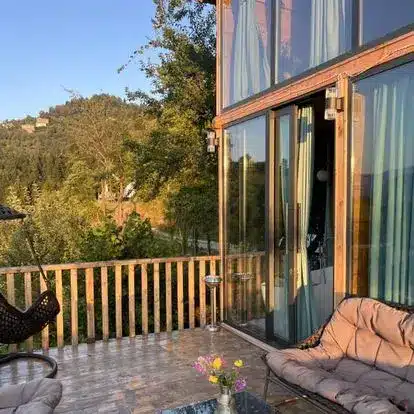 The expansive outdoor recreation area offers a variety of activity possibilities, whether it's sunbathing, yoga, or simply relaxing, you'll find peace of mind in the embrace of nature.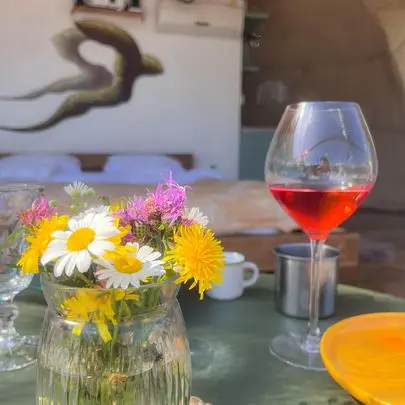 Spa area (sauna and open-air bath):
In order to allow visitors to fully relax and recover after exploring nature, the Hill Inn features a spa area, including a sauna and open-air bath, where you can enjoy spa services while taking in the beauty of the surrounding nature.
Hill Inn Luxury is more than just a place to stay, it is an excellent choice to experience the natural beauty and culture of the Georgian Highlands. Here, every visitor can find a way to relax and enjoy a vacation experience unlike any other and enjoy their vacation.
The project consisted of only two sets of products, but the difficulty lay in the pristine conditions on site, where the transportation of materials and the weather conditions during installation posed a great challenge. The climate in the Adjara highlands is variable, with warm, wet summers and cold, rainy winters. This climate makes the transportation and storage of building materials particularly complicated, especially during the rainy season. In addition, the undulating terrain of the highlands creates additional difficulties in transporting equipment and materials, especially on steep or muddy roads.
Dealing with condensation and fog is a major concern on projects. In humid climates, the interiors of tents and treehouses are prone to condensation, which not only affects the comfort of the occupants, but can also cause damage to building materials.
In addition, the heavy fog and low visibility in the mountainous areas place higher demands on outdoor activities and safety management. Therefore, the project team must take effective insulation and ventilation measures to ensure indoor air circulation, and also consider the impact of fog on outdoor activities to ensure the safety and comfort of visitors.
Features and Achievements
Both luxury camp tents are becoming popular and featured in luxury hotels on the Hill. Here are some characteristics of them:
Double bedroom
Projector for watching movies
Bathroom
Kitchen with utensils and proper stocking
A small library and board games
Amphitheater campfire
Balcony with hammock
Available Wi-Fi
Double bedroom
Projector for watching movies
Kitchen, equipped with utensils and proper inventory
Bathroom
Small library and board games
Amphitheater bonfire
Balcony with hammock and Jacuzzi
Available Wi-Fi